Auction of Artwork by Charles Levison
We couldn't be more excited to launch our exclusive auction of paintings by Charles Levison. Charles has exhibited across Malawi to national acclaim, but this is his debut here in the UK. He has sent us these paintings from Malawi, to support our scholarship programmes.
Lot 1: Winter Sunset, Oil on Canvas. 46x65cm. Starting bid: £100
Lot 2: Pitani ku Sukulu, Acrylic on Canvas. 46x65cm. Starting bid: £150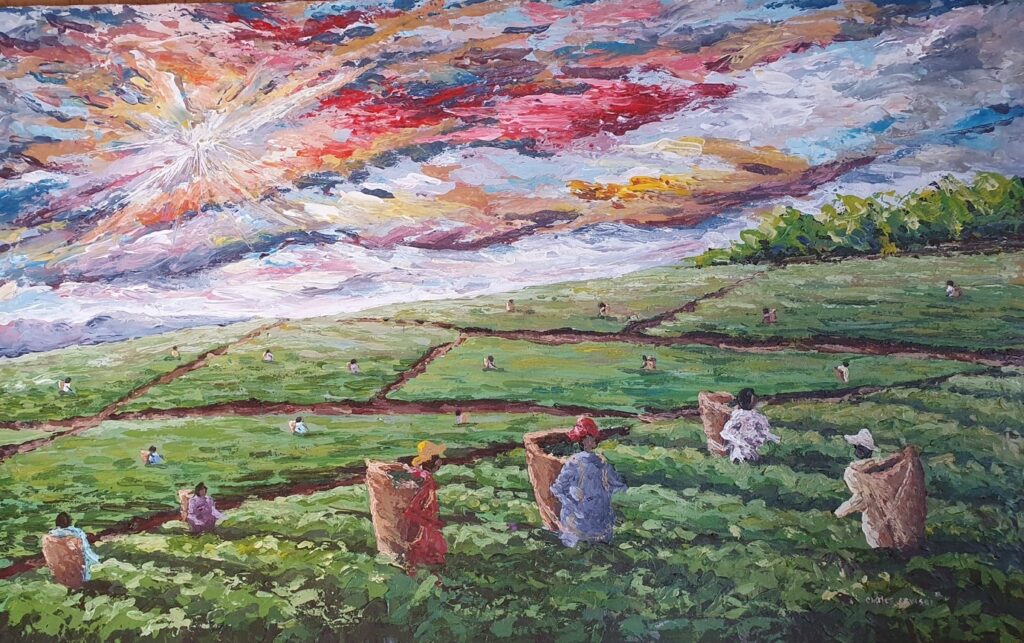 Lot 3: 'Plucking' by Charles Levison, Acrylic on Canvas, 51cm x 80cm. Starting bid: £250
Lot 4: Plucking, Acrylic on Canvas. 51x80cm. Starting bid: £250
Lot 5: Tea Path, Flagship Piece, Acrylic on Canvas. 81x56cm. Starting bid: £500
About the artist
Charles' Levison's work has been exceptionally well received in Malawi and he is regularly featured in the national press and mainstream media.  His first public exhibition was in 2016 at the Jacaranda Cultural Center, which was met with national acclaim.  Born in 1991, Charles originally trained as a bricklayer, but he said the "spirit of art" moved him to re-train as an artist, and he attended Nthilo School of Art.  Now he teaches in Malawi's capital, Lilongwe.  He is  Vice General Secretary for the Film Association of Malawi and General Secretary for the Visual Arts Association of Malawi.